| | | |
| --- | --- | --- |
| | Property Overview | |
Divi Dive trees line a perfect strand of pure, white, soft, sandy beach. Elegant palms dot a vista of blue and teal seas, and it all waits patiently for your arrival. Your days are full, with an endless choice of water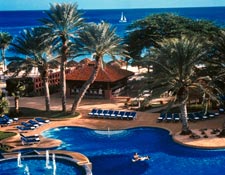 sports and activities. Drench yourself in the fun of windsurfing, scuba diving, riding personal watercraft, and snorkeling or the excitement of some serious deep-sea fishing.

For calmer waters, relax in our sparkling, free-form pools, where Wyndham Pool Concierge will cater to your every whim, from refreshing spritzes to fresh fruit to your favorite newspaper or magazine. Feeling rested? Good, because it's time to take in a set of tennis; around of golf at Tierra del Sol, a nearby championship course; or a workout at our fitness center and spa facility. For the non-sports fans, a shopping trip to Oranjestad will fill your day - and a fe shopping bags, too. If all this is getting you hungry, that's good.
We've got five extraordinary restaurants with gourmet fare to please every palate, from Continental to authentic Caribbean. And just when you think the day is ending, it's really just beginning. Casual Cocktail lounges will get you warmed up for the nonstop action of our 12,000-square foot Casablanca Casino, or unwind in Sirocco to the sounds of jazz under starry night.


Recreational Activities

· Swimming Pool
· Health Club & pampering salon
· Tennis, nearby championship golf course
· Supervised children's programs
· Deep-sea fishing
· Sailing & Windsurfing
· Scuba Diving
· Riding personal watercraft



Adventurous guests can windsurf, snorkel or try water aerobics.
Enjoy the cooling trade winds while sampling refreshing tropical cocktails and delicious treats at any one of the outside restaurants and bars. Children can experience fun-filled days at the Kid's Klub while parents take in a set of tennis, play a round of golf at a nearby course or explore the great shops in downtown Oranjestad.



Marriage Requirements:
Residency: none
Parental consent: under 18 years old
Cost: $90USD application and ceremony, $25USD for marriage license
Documentation: Valid passports for both, and if applicable, divorce or death certificate, and "apostle" report (from state Bureau of Vital Statistics) must be received one month prior
Witnesses: 2 at time of ceremony
Blood Test: not required


| | | |
| --- | --- | --- |
| | The Casino | |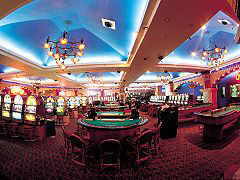 Feel the excitement
Come play your hand at the Casablanca Casino, our 12,000 square foot (1,115 square meter) gaming establishment. From midday until the wee hours of the morning, there's always high-style action, and the Casino Bar will raise your spirits before, during and after gaming.

The Casino's glamorous,
glittering atmosphere provides evenings of fun for every player. Play 16 blackjack tables, five roulette wheels, baccarat, Caribbean stud, dice, 220 slot machines, or the high-stakes area.

| | | |
| --- | --- | --- |
| | Quick Links | |