| | | |
| --- | --- | --- |
| | Property Overview | |
Stay at the four-diamond Wyndham Condado Plaza Hotel & Casino and experience the magic of Puerto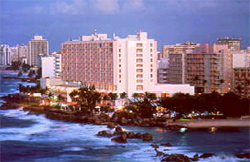 Rico. From the elegant property itself to the attractions of San Juan and the Condado strip, you'll have the best the island offers. From the hotel's central location overlooking the Atlantic and the Condado Lagoon, you can take in sea breezes and watch the sun slowly set.

Try your luck at the hotel's casino, the island's largest. Swim at the protected beach, or take some sun on the beachfront terrace followed by a dip in the pool and a drink at the swim-up bar. For the active-minded, there's a lap pool, lighted tennis courts, and a fully equipped fitness center.


The magic Caribbean spell doesn't take long to work. Off-property, you'll feel the transformation, too. Be one with the El Yunque Rain Forest, just 45 minutes away. Contemplate the ancient ruins of the nearby El Morro Fortress and listen to the soothing call of the Coqui frog. Wander the cobblestone streets of Old San Juan, soaking up history.

Back at the hotel, choose from six restaurants, three bars and cafes, and the La Fiesta Lounge for live entertainment and dancing. It's the magic world of the Wyndham Condado Plaza, one of the best resorts Puerto Rico has to offer.


Activities and Entertainment

Whether it's adventure or relaxation you want, the Wyndham Condado Plaza makes your pleasure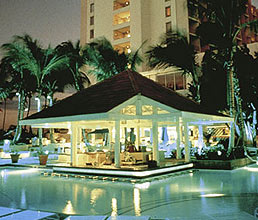 possible. Lying by a pool with a pina colada - a drink rumored to have been born in Old San Juan - is a time-honored island pastime. Try it on the beachfront terrace at the saltwater pool or the activity pool. Slip into a Jacuzzi overlooking the beach, or take off a few years on the waterslide.

If exercise is your passion, fulfill it at the lap pool overlooking the Condado Lagoon, or try water aerobics and aqua volleyball at the main pool. Can't get enough water? There's also windsurfing, aqua cycles, kayaking, and deep-sea fishing. On the grounds, you'll also find lighted tennis courts, a basketball court, and shuffleboard.

Cap off the day with a sunset cocktail cruise, black jack in the hotel's Lavish Casino, or live entertainment and dancing at the La Fiesta Lounge. Walk to nearby shops and restaurants, or hop over to the Spanish Colonial charm that is Old San Juan. Along its narrow streets, shop for hand-carved santos and rum, refresh your palate with a shaved-ice piragua, and visit one of the many fascinating museums (the home of Ponce de Leon is a favorite). For a memorable day trip, head 45 minutes out to El Yunque Rain Forest and experience one of the world's natural treasures.


| | | |
| --- | --- | --- |
| | The Casino | |
The largest casino in the Caribbean with endless gaming choices. Open 'til 4 AM.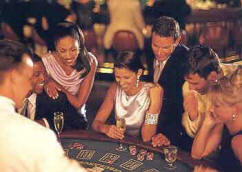 The casino has a gaming area of 12,000 Sq. Ft. which include:
* High Limit Pit Area For Table Games


Slot and Video Poker

* 5 Cent Slots
* 25 Cent Slots
* $1 Slots
* $5 Slots
* $25 Slots

Table Games

* Craps with limits up to $2,000
* Blackjack with limits up to $2,000
* Roulette with limits up to $200
* Baccarat with limits up to $200 / $5,000
* Mini-Baccarat with limits up to $2,000
* Midi-Baccarat with limits up to $2,000
* Let-It-Ride with limits up to $100
* Caribbean Poker with limits up to $100

Craps Betting Information

* Odds: Double
* Odds Calculated in Rating Player's Average Bet
* %5 'Vig' paid when Buy Bet is made.

Blackjack Betting Information

* Dealer Hits On Soft 17 on Hand Held Games
* Double After Split
* Split Pairs Up To: 4 Times
* Split Aces Up To: 1 Time
* Games: 6-Deck Shoe, Continuous Shoe


| | | |
| --- | --- | --- |
| | Quick Links | |